Han, Marie, Mona And Valeria Do Fashion Week For The First Time
Mona Tougaard, Valeria Buldini, Han
Vanwijnsberghe and Marie Konc made their fashion week debuts during the fashion shows for Fall Winter 2019. These models, who competed in the World Finals of Elite Model Look in recent years, were seen on the runway for the first time since the contest. Mona from Denmark and Valeria from Italy both walked at Prada for their very first show, Han from Belgium at Grace Wales Bonner and Marie from France at Burberry.
EML has long been a passport to the top of the fashion industry, and after competing, Winners are represented by Elite agencies all over the globe. We asked these four new faces for their impressions of the fashion industry from behind the dark curtain.
Mona Tougaard from EML Denmark for Prada
"I was so nervous right before the show! But when you take the first step in to the runway, everything goes dark and it was magical!! I was not sure if I got the show, but the day before, I got the message that I would be walking the show. And I was so happy and excited! I got to meet Muiccia Prada, it was really funny to see the designer behind the collection, it was a honour! At the show, I saw Valeria from Italy EML from the same year as me. And we where both so happy to see each other there. Since I did EML, I have been practising my walk, so I can walk and feel comfortable. So practice practice practice! EML helped me to walk better, and to feel comfortable in front of the camera My advice to kids out there, who wanna be a part of EML, is definitely to be yourself, and believe in yourself. Dreams really comes true!"
Han Vanwijnsberghe from EML Belgium for Grace Wales Bonner
"It was amazing walking my first show I really loved the experience! Backstage it was really busy with lots of hairstylists and make-up artists. It was all really professional and they took good care of us. Naomi Cambell was at the show and she was super nice! I did some fittings and I was a little bit nervous but the casting directors are nice people so it's fun. It felt great to be on the catwalk. It gives you a total adrenaline rush! I have always been interested in fashion, and in Antwerp, where I'm from, there are lots of nice clothing stores so I have always been inspired by that. I was scouted by EML from Instagram. They sent me a text telling me I should come to their castings so I did! My adcivce to anyone thinking of applying this year is that they should give it a shot! The contest is a super experience and you learn a lot."
Marie Konc from EML France for Burberry
"I love London, so I was super happy to do my first show there. Meeting Riccardo Tisci during fittings was kind of stressful, I just wanted to do my best. I was super nervous, in case I fell, or walked badly in the show! The atmosphere backstage was super cool. Most of the models arrive by themselves, so straightaway you have something in common and it's easy to get on. Everyone's in hair and makeup, and then they get dressed, models are practising their walk, hanging out, whatever. Then you line up before you go onto the catwalk. Just before I walked, I wasn't really aware of what was happening, but the show went really well. It was only when it was over that I felt this huge sense of relief and I had tears in my eyes! The day of the show is definitely more exciting than fittings – there was a lot of emotions, but a lot of joy.
At the moment, I'm studying for my baccalaureate in high school. What I love about school is that it is so far removed from modelling, I like keeping the two separate. School allows me to come down from this cloud! My model workout would be yoga, I do 20 minutes every day, and I eat 4 savoury meals a day. In my free time I love playing sport, cooking, travelling and of course hanging out with my friends and family. If someone wants to do EML this year, I say go for it! EML taught me to catwalk, to manage stress and how to be in front of the camera. If you are passionate, you must try modelling – or you might regret it! No one knows what will happen, so give it your best shot!"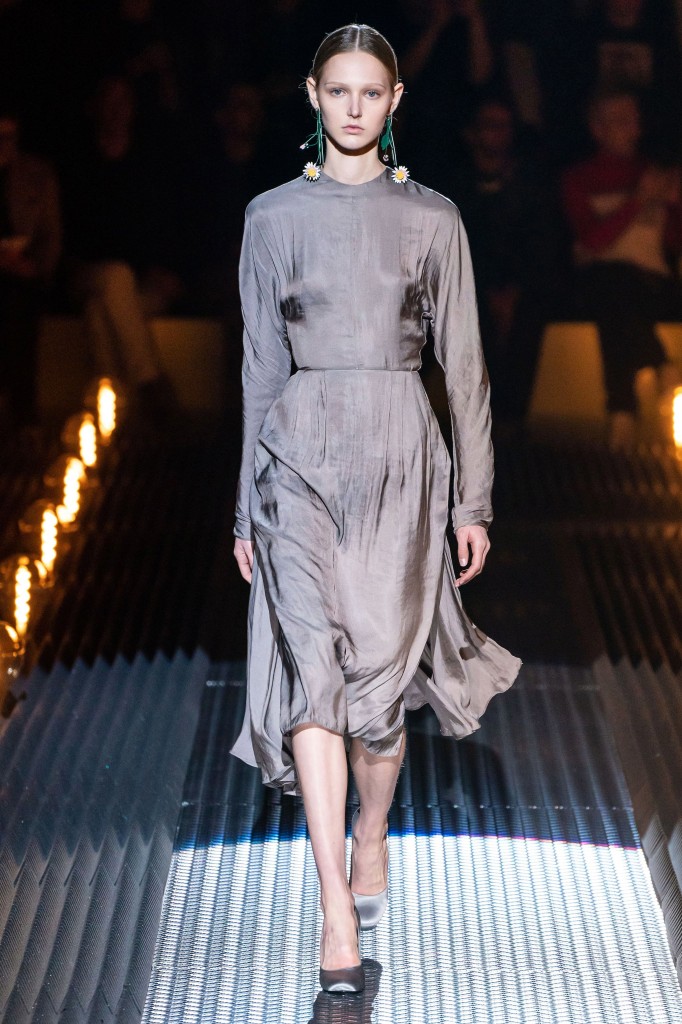 Valeria Buldini from EML Italy for Prada
"I never thought I would ever walk the Prada show, but it finally happened! It was awesome. It was a dream come true, so breath-taking! Backstage, I saw so many famous models, and got to know so many others. Now I can definitely say that if you really want something, and you work hard, anything is possible! I loved the hair and makeup area, all these models transformed. Before the show I was nervous because it was my first time. But walking in the show, I felt like the best version of myself, doing what I love! When I met Muiccia Prada, I was so excited to meet the creative mind behind the collection, and I was super excited to wear one of her designs. I am so grateful to her! I'm proud of myself, taking my first steps in the industry. I was so proud to be walking in Milan, and to be part of the Italian fashion industry, Italians are known for dressing well, and Italian designers are synonymous with excellence, elegance and high quality. My workout secret is to never deprive yourself – just fueling my body with good food, working out whenever I can, sleeping enough and having fun! There's no magic, just finding a balance. EML taught me so much, they are like family. I didn't just learn to walk, I grew as a person, and I never felt alone with so many good people around me. My advice to people applying to EML this year is be natural and not to try to imitate someone else. You have to be yourself which is always the best version of you! Be fearless in the pursuit of your dreams, if you really want it never give up, be passionate and hold your head high!"
You might also like...