How To Get Moschino's Art-inspired Fluoro Look By Kabuki
On Sunday, Jeremy Scott brought Moschino to London for the Autumn Winter 2016 menswear collection. His longtime makeup collaborator, Kabuki, provided the beauty look. Starting off as textile designer, Kabuki has worked on music videos for the likes of Rihanna, Katy Perry and Michael Jackson, and on screen productions such as Sex and the City. We chatted to him backstage about the looks he developed for models including Benjamin Benedek, Ruth Bell and Molly Bair.
Tell me about the look at today's show?
I wanted it to feel very fresh. It was almost like the brightness of the prints was reflecting on the models, so it was just a bit of makeup brushed on the ears, and on the girls, it was a bit of colour on the eyelashes. When you see it, you think it's coloured light. It was good for the setting. The artists Gilbert and George were the inspiration for the clothing, and there's a luminosity to their paintings, so I wanted to the make up feel more like a reflection than makeup.
How did you develop the look?
When I started off, I didn't really know how it was going to work out. I did the tests when we were in New York, and I really just duplicated the look of the Gilbert and George paintings, almost to get it out of the way. The only other test we did was last night, and I wanted to be over-prepared, so that we could get just a dash of this, just an idea. With the clothing on, it's a whole different story, it would just be crazy if they had looked exactly like they did in the images which were printed on the shirt.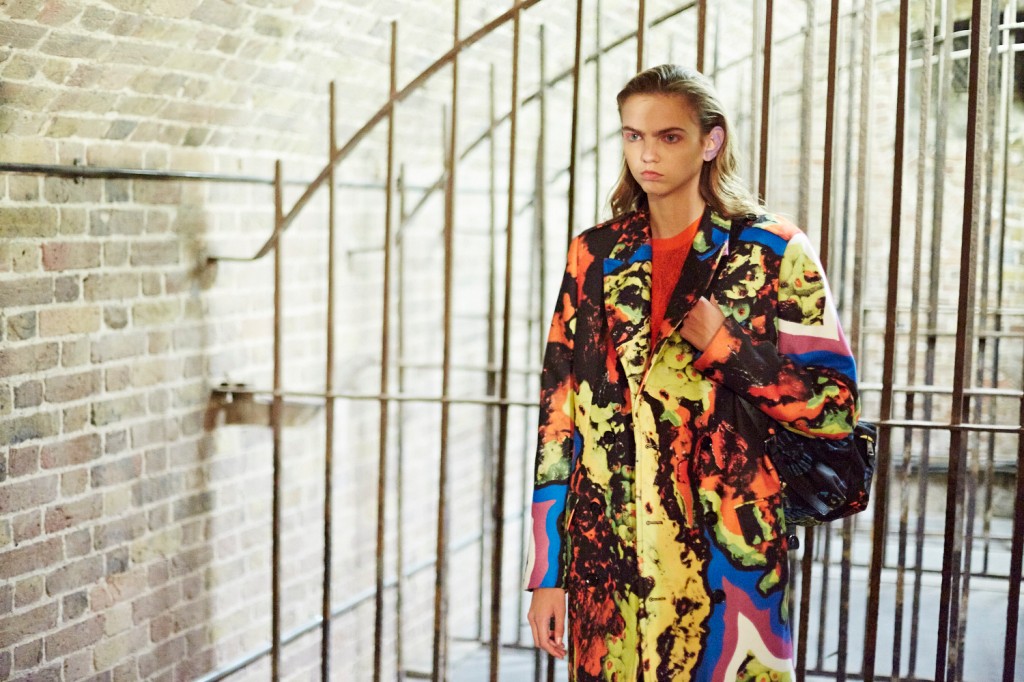 So with the tests you wanted to take it all the way to the extreme to see how you could strip it back?
Yes, that was really the idea. You've also got to test which pigments work, how the colours wear, just from a technical point of view, and then you come into it a lot more confidently. I met with Jeremy early, before Christmas, and I didn't think of the idea for the eyelashes until maybe the day I was leaving for London, so it had time to sit there in my mind and stew. It's always better to be over prepared for your own peace of mind, it's always better to say, "we love it, but a little less" than "we need more, but we don't know what it is". It seems to be the way my brain works!
Why did you put paint on the ears?
If you look at the Gilbert and George paintings, they colour in the ears and the white of the eyes, and that would have been a previous idea to put coloured liner in the waterline, but it seemed to be too makeup-y. At least with colour on just the eyelashes, it's sort of floating, it looks a bit more like light. It's not the whole ear, originally it was, but I saw the print of the boot, so there's a feeling of wet paint or something. It all ties together!
There was almost a rave feel to the music which it seemed to tie into...
That's what I like about working with Jeremy Scott. He doesn't send you off on a wild goose chase, and he doesn't over direct you either, you have a sense of freedom. I think you want to think about it but not over think it. It's got to be about the moment, the fleeting gesture, so it's got a lightness of touch. This makeup look has got a youthful thing; you don't want to be in the middle; it needs to be either really theatrical or be about the poetry of it, just the idea. In this case, the collection is so strong, you just need a hint, you just need it to be sympathetic and of the same world, but not too literal.
How difficult is it to do makeup at the menswear shows, is there less going on?
Every show is its own individual feel, I think it's easier when you have worked with the team before because you know the subtext, because it's all about collaboration, really. You want to provide options and where you can pull back or go forward. I try to provide a menu in the beginning and just feel the waters a little bit, and sometimes you find out more by hanging around at the tests and going off your instincts. I don't think menswear is harder, you can almost be more conceptual. Jeremy wanted the girls almost to be treated like men, and they were really. I could have done the mascara on the men, but I thought that was pushing it a bit too far. I don't think the people who will be wearing the clothes will be painting their ears, but they could if they felt like it. I think when you do an unusual detail like that, and you don't do a lot of it, it heightens the healthy skin. That was when I knew it was enough, was when it made the skin look really fresh in contrast. I think if you keep adding things, you lose it. It looks very youthful and goes with the spirit of the collection.
You might also like...