Rahma Sheikh On How Modelling Can Make A Difference
Earlier this year, Rahma Sheikh walked into Elite London looking to become a model and was signed on the spot. A law student and Youtube blogger, we sat down with her to find out about her love of fashion, about her toughest challenges so far and why she believes London is the greatest city on earth.
Tell us about yourself.
I was born and raised in north London. I have two older sisters, and I live with my mum in Harlesden. I'm first generation Somali, both of my parents came to the UK as refugees. It's a bit difficult – you want to be Western, but you want to be respectful of your culture, it's always interesting to keep the balance. In the age of social media, you can connect to people really easily. I've always been very active in the Somali social spheres in London, I was on a couple of talk show panels talking about what it's like being part of the Somali youth here. I was on a platform called Young Somalis Talk, and I was involved with the Anti-Tribalism Movement. Also, people think it's one side against the other, you're either Western or you're Somali, you either respect your culture or you integrate, but I think everyone can be themselves.
How has your relationship with your dual identity changed over time?
I used to go through phases where I didn't want to be part of this culture. I wanted to be like my friends, whereas my family would be so specific about things, and I would think, "why can't you just be normal!?" But I realised how ignorant that is, people can't just drop their culture. When I moved out in second year of university, I realised how much my culture affected even my day-to-day life, how I would greet people, what I found important. Somali people invite you for tea and chat for hours, whereas for people from the West, it's go go go! But there's pros and cons in everything. There was a time when I just thought, "I'm just going to be Rahma, not overly Western Rahma or overly Somali Rahma." I think you have to respect your heritage, and a part of that is to integrate your culture into your lifestyle.

Do you go back to Somalia?
The last time I went was in 2012 when I was 14, and it was such a culture shock! Not that I want to say that life in Africa is a certain way, because life in Africa is varied and dynamic, but it was little things like the heat and the mosquitoes! But it was also very beautiful, it was such a nice time to try and unwind, I had a lot of time to myself and my thoughts, I feel like I haven't had time like that since I was there! It was so different to London culture – if it was raining, people would say: "come into my house! It's raining!" That would never happen in London! It's a sense of brotherhood and community, but it also made me appreciate my life in the West and my opportunities, and made me work harder, because not everybody has the same opportunities that we have. It was lovely to see where my family came from.

Who is your role model?
All of the women in my life are role models, I don't look to celebrities for inspiration. You know that saying: "it takes a village to raise a child"? There have been so many strong Somali women, my mother, my aunties, my family friends, my mum's a childminder so all of the children she childminds, so all of their mothers giving you advice. They all uplift you, they all do their own career and it's so beautiful to see how in one generation they have come from this difficulty and have built a life from themselves.

Tell us your favourite…
Singer: Beyoncé.

Film: Breakfast at Tiffany's.
Flavour of ice cream: Salted caramel.
Holiday destination: Dubai... I'm so cliché! (laughs)
Fashion brand: I have so many! It would be impossible to choose. Different ones for different days, I'm so eclectic!
You were a walk-in at Elite London. What was it like to do that?
I have seen how much the model industry had diversified, and how much different cultures are being represented. People have always told me: "you should model!" but I thought, "they're not going to understand me or that I have to abide by certain rules". Then I saw an emergence of hijabi models, and I thought, "if they can do it, why can't I?"
I did my research and saw that although Elite has some of my favourite models, they don't represent any hijabi models, so why not walk in? I thought if they say no, they say no, but if they say yes, it will be the start of something – and you guys said yes! I'm so happy! (laughs) I even remember saying, "is this a dream!? Is this for real, or am I being punked? Is everyone going to start clapping now!?" It was so humbling and testament to how great London is, how much we all appreciate each other, and the diversity – everyone can be themselves.

Did you want to work in fashion before?
Fashion has always been my first love. I wanted to do fashion design and marketing at the London College of Fashion, but I was told I should do a traditional degree as a safety net. I wasn't able to let fashion go, so I compensated through my Youtube and my blog and Instagram. I knew that the modest fashion movement has rocketed, but it was only when I saw these modest fashion models that I thought maybe this is my time.
Halima Aden is American, but I believe that London is very special, it's one of the greatest cities on earth because of how multi-cultural it is. I don't experience Islamophobia or racism. I know a lot of people do, but I don't. I thought if I'm going to try to do this, why not here where diversity is really and truly championed, in a real way where we appreciate and respect each other.
When did you start your Youtube channel?
I started it in 2015. My father had just passed away, so it was a weird time in my life. I failed my exams at school, or I just scraped them – I was predicted AAB and I was going to go to SOAS (School of Oriental and African Studies) to study law. That was my dream, my sister and my dad studied there, so when I didn't get the grades, it was like everything was just crumbling around me. I just lost track of who I was, I was in a daze for months, he died two days before my first exam, and I remember sitting there thinking: "I can't do this" – I had lost one of the most important people in my life and now I'm going to lose my education as well. Luckily, I managed to get into the University of Hertfordshire to study law. Over that summer, my friends would do anything to get me out, even just to sit in a coffee shop, there were times I didn't even want to talk, and they would literally just sit there with me. They really helped me get out of that funk. I remember thinking, "I can't go on like this".
I shifted my attitude from one of victimhood to thinking, "this is life, sometimes horrible things happen, I have to do him a service and not let it ruin the rest of my life." People say, "you're so happy and positive all the time, I can't believe something like that happened to you!" But I really believe in practising positivity, and not thinking "I'm a victim" because once you start, it's hard to stop. I love fashion, so I thought why don't I do something with that? When I was younger, my dad always had a camcorder, he was always recording things, us, our school assemblies, it was just part of our life. I watch back videos of him so fondly, and I am so happy that he used to do that, and imagine if I didn't have that? Now, every time I do something, I want to document it, I'm on social media all the time!

So your Youtube became a form of therapy?
Essentially, something was missing in my life. It's not something I talk about, because I want my channel to be a light happy place where I talk about clothes, maybe what I just bought from Zara, how I much just spent from my student finance that I shouldn't have done! (laughs) Because I study law, I started to incorporate that. It's just me showing what someone who's 20, a black Muslim and wears a hijab, and reclaiming that stereotype. Even the hijabis out there were Arab or Asian and had lighter complexions, so it's even a problem of diversity in a minority! There was hardly any Somali or darker Youtubers when I started. I truly believe in representation and how important it is, especially for younger people growing up. I thought: "this is me, I have something to give".
Once I started my Youtube channel, I never wanted to stop, and recently, I hit 10,000 subscribers! I was like, "wow, 10,000 people watching me!?" And now they're on my channel saying, "Oh my God, sister's doing law, she's just got signed to Elite, sister's slaying the game!" It's really nice to see people who really want you to do well. I feel like you get back what you give out, so if you put positivity out there, people will give it back to you. It was something I really wanted to do, I started when I was so lost and so sad, and it's grown so much, and even in the future, hopefully it will grow some more.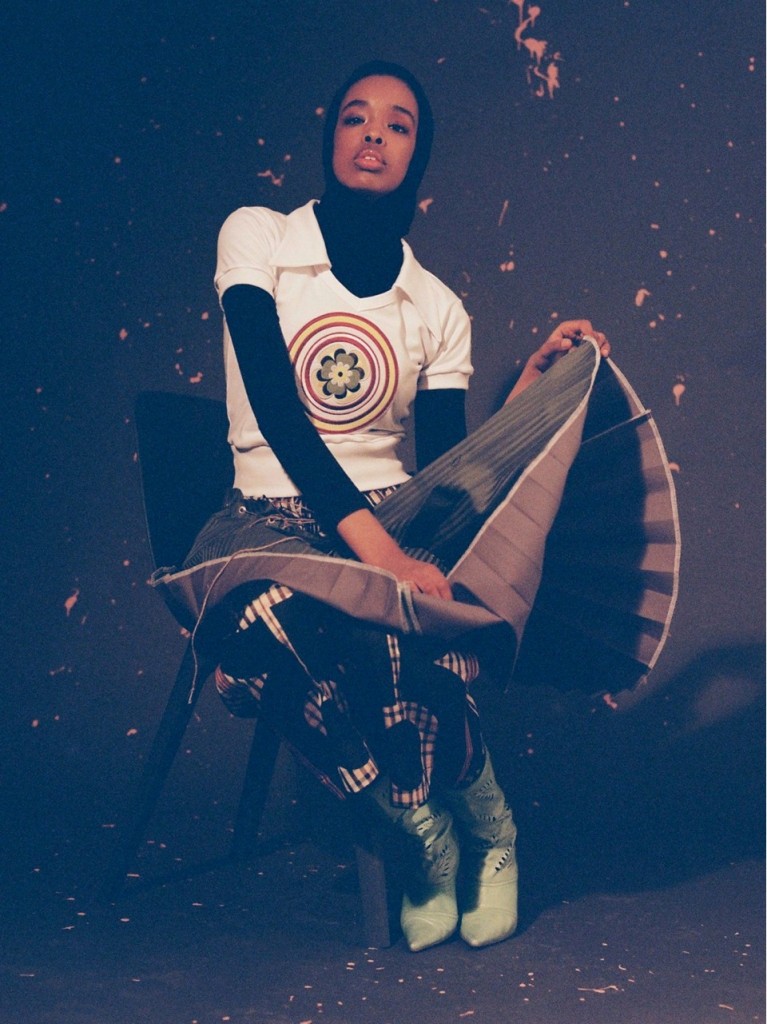 Who are your favourite models?
I have a real affinity to models of colour. It's unfortunate that they still have to break barriers, it's sad to me that we're saying "this is the first black model to do this or that. It's so cliché and people probably say it all the time, but I adore Naomi Campbell! She can do no wrong for me – even her attitude, I love it! I wish I had even 1% of her confidence. I love Duckie Thot as well, I loved her on the Fenty campaign. And of course, I love Adut Akech, she's so cute, so striking and beautiful. And I love Iman Hamman.

What inspired you to study law?
I was always interested in human rights and community care, and I see struggles in my community, and how legal professionals are really needed. From things I hear my mum talk about, things I read about, battles with housing associations, community care and social services. Somalis have the language and the cultural barriers. They operate in a very different way, to a Western eye, people say, "that's not how you should do things", but that's just the way the culture is. It's about integrating Somalis into mainstream society, and one way they will do that is having their own people becoming representatives and giving back.

I have always wanted to help my community, whether that is through representation, through my Youtube and showing girls they can be whoever they want to be, or through my degree and giving back, everything I do, I feel you have to be a model for the community – not just a fashion model! – but to show others that they can do whatever they want to do. It goes back to this tug of war about who you are, you can just be yourself and be the best of both worlds. That's the best thing about having Somali heritage but living here, you have seen another way of life and you will always have that strength from family members who have been through so much. For me, law is a way to give back, otherwise what's the point of that education?
What's the best advice you ever recieved?
I read this on social media, and it was at the time my father passed away, and it was saying something about a bank of bad days. Any bad days you have, you write it down in a diary. Whatever negative experiences you have from then on, nothing will beat that. So for me, it would be May 19th 2015. Always have that – if I've overcome that, nothing will be as bad. But if there is something worse, you just put that down in the diary, and you say, "I've overcome this." I have created this life for myself, I go after things, I am hungry for change in my life and to better myself, that bank of bad days is so important because if someone pushes past me on the train and I'm so annoyed and I have PMS, I think, it's really not that deep. Even if I fail an exam or an essay, I think, you know what? It's a degree. Is it that big a deal? It puts everything into perspective.

You might also like...