Meet The Booker: Iva Linhartova
Hundreds of thousands of hopefuls flock to the EML castings globally every year, hoping to follow in the steps of Cindy Crawford, Gisele Bundchen and Vittoria Ceretti. We caught up with Iva Linhartova about the EML castings in the Czech Republic, what it takes to be a model, her favourite parts of her job and daily inspirations.
You are working on the EML Czech contest this year. What are you most looking forward to at the contest this year?
Every year we do a two-week casting tour across Czech Republic and it is a really exciting time of the year for us. Over the castings, we interview hundreds of applicants and it is amazing to guide the discovered talents through this new experience.

What do you look for in the applicants at the castings?
As well as height, and how they photograph, we look for a strong personality and something about the person that will strike you as memorable. Models don't need to be extroverts but what appeals to me personally is when they are just natural, people who are comfortable in their own skin.
What do you think is the secret to success as a model?
It is a mixture of different characteristics, social skills, ambition, focus and really a bit of luck. But actually there is not a general formula, they just have to realize what makes them unique and turn it into their strength!
Have you always wanted to work in fashion?
To be honest it didn't cross my mind, I always wanted to work in a startup environment! I took working in fashion as a challenge of learning something completely new to me. Everything in the fashion world moves very quickly and to keep up, you need to love what you do. I used to work in PR and it is especially helpful in the process of the of EML contest final. The final is held in the Prague Castle, it is a beautiful event with many guests and of course the media are important part of it.
You have been an agent at Elite Prague for just over two years. What do you love about your job?
I love working with young people. It brings me joy to see how they evolve under our supervision, from the first time I see them at a casting to when they travel to the other side of the world. I also really appreciate the team we have at Elite, it's a very pleasant work environment.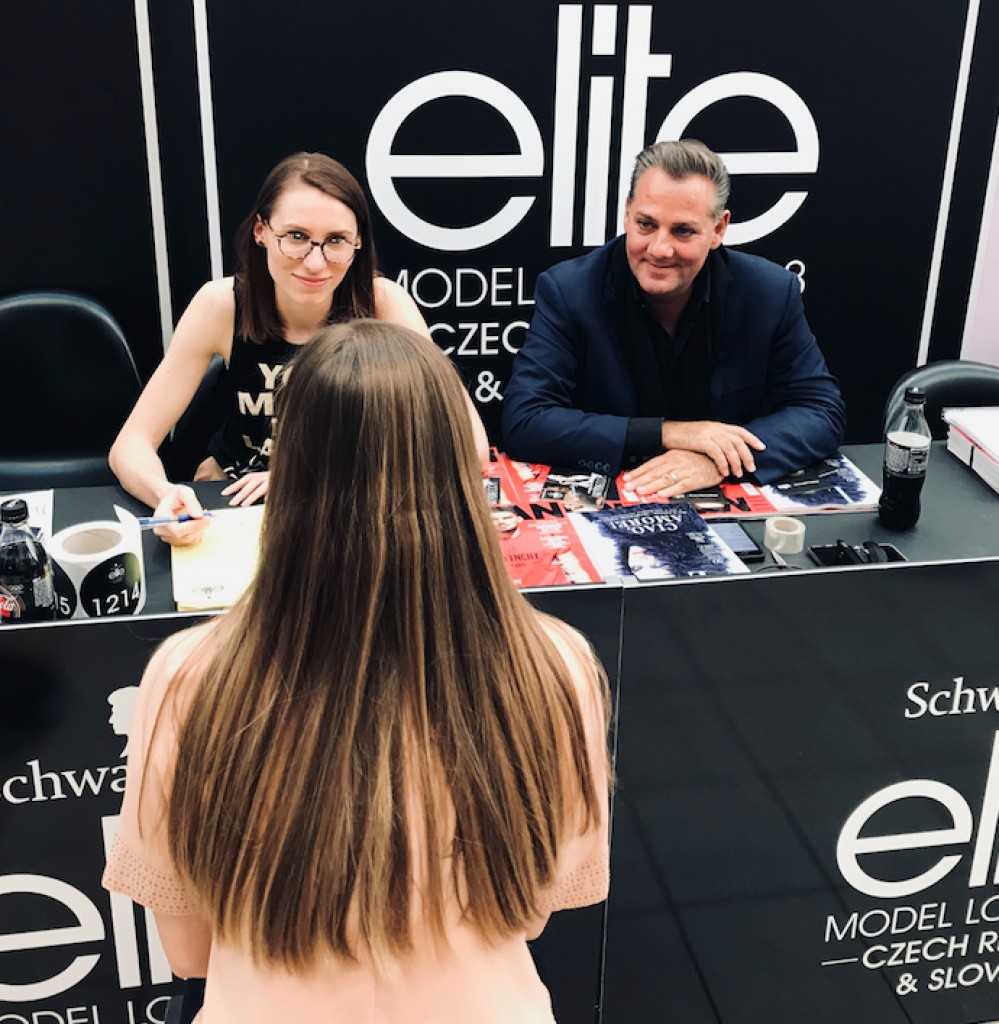 What are the challenges?
When models are just starting, they are at an age when they shape their personality and they are discovering who they want to be, and what they want to do in their life. I am aware that what we do can have a big influence on young people, so I take it very seriously.

What is your morning routine – how do you get ready for work?
Every day I wake up quite early, mornings are important part of the day for me. Sometimes I go to the gym or for a run, or I might walk to work. But what I really need to get ready for work is a big breakfast and a cup of coffee!

Who or what inspires you?
I am fascinated by ultra marathon runners, people can run over 100 km in a hard terrain. It's absolutely amazing what our body is capable of. What inspires me is the will and the hard work they put into training every day and the strength of their mind. I love sports and being outside in the nature. I do lot of mountain biking or hiking, it is a great way of active rest! The best weekend for me is to take my bike early morning and come back in the dark, having covered a massive distance.

If you didn't work as a model booker, what would be your dream job?!
My dream job would be starting my own project, my own business.

What is your advice to anyone applying to EML in 2019?
Don´t be afraid to try new things in life, even if it´s outside of your comfort zone, you never know what can bring it to you in the future.

You might also like...