How To Cast A Men's Fashion Show With Sarah Bunter
Sarah Bunter, Director at Bunter Casting, has cast for shows including Matthew Miller, YMC, Christopher Raeburn, Hardy Amies and Berthold. Starting her career in art direction, she assisted on projects with Levis and adidas, before going on to set up her agency. This week, she will be casting for shows at London Collections Men which start on Friday. We caught up with Sarah to learn how the process of model-matching works, her best memories of show season and what she's most excited for this time around.
Can you describe the process of a casting for a show?
Quick! Especially in January. The process has to be so fast now as the international schedules are so tightly packed together. Casting discussions usually happen 4-5 weeks prior with references such as photography, films, art, music, certain eras. A mood, a look - each designer is different and they each have lots of different ways to describe what they want. It depends on how many models a designer needs but usually for a 18-20 guy show, we aim to see 120-130 models.
What makes the role of casting director creative?
It can vary, for example, suggesting how female models are included and represented in menswear shows can feel important. Working with much smaller agents and scouts to uncover some real surprises is very satisfying as well - when the little oddities become the shining stars. For shows and presentations, the designers have the ultimate say in the models that represent their product. There is a lot of trust based in their stylist (and hopefully their casting directors!) to guide and advise on the best decision but ultimately, the designer has the final sign off. Photo: Matthew Miller SS15
How might it differ (or not) from casting for a magazine or a video?
The sheer quantity of guys to co-ordinate is twenty times as much for a show and priorities are slightly different. There is less variety in how a model is shot on a catwalk, so fit is important as well as their presence. With an editorial photo shoot, a photographer can be more clever with angles, lighting etc to create their own mood. At a show, and especially at a presentation, there is nowhere to hide. Video: River Island x James Long SS15
What is your role during the shows? Do you attend rehearsals?
Rehearsals at London Collections Men [men's fashion week in London] typically happen one hour before the show so we are there working on line-up and checking on pacing and timings. One of the biggest responsibilities is to ensure that every confirmed model arrives promptly. Shows are so tightly packed together now, some often get stuck or lost making their way across town. Photo: Christopher Raeburn SS16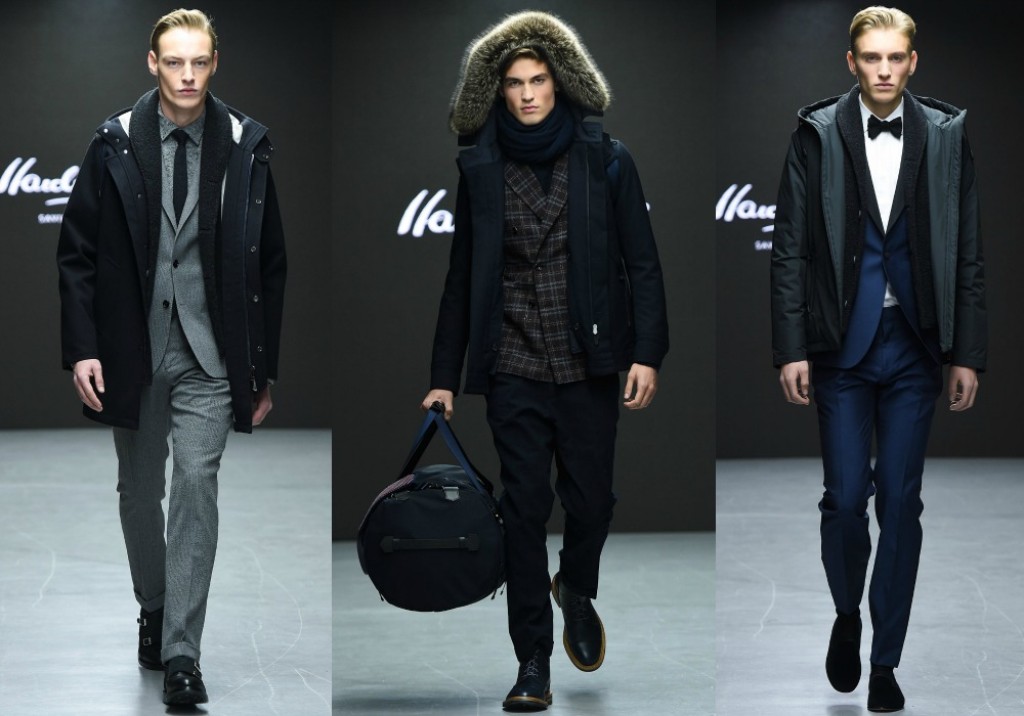 What moments from fashion shows in the past are you most proud?
Casting five shows in one day felt like a real achievement - it turned out to be about 84 models in the space of six hours across four separate venues. It was incredibly intense. It took a lot of concentration and commitment from the team but it worked out really well. Photo: Hardy Amies AW15
What are you most excited about for this season?
Mostly, watching the designers being proud of their collection when they come out at the end is one of the best moments. One of the most overwhelming times for me was probably YMC opening SS15 LCM shows at the British Library. The music was Kate Bush, Cloudbursting, and the setting was really stunning - I had 4 shows that day and started with a 6am call time... I just sat there grinning and welling up and heard one of the team saying "aw, are we a bit tired Sarah?!" Video: YMC SS15 via the British Fashion Council
You might also like...